This ground report was sent by an IndiaFacts reader and supporter. 
BJP leader B.G. Patil Yatnal and other BJP activists–Umesh Kore, Parasuram Kenganal and Yellappa–have been framed and arrested in Bijapur for celebrating the swearing in of Narendra Modi as India's 15th Prime Minister. Karnataka is ruled by a Congress Government headed by Chief Minister Siddaramaiah. 
Here is a pictorial chronology of how the events unfolded in Bijapur. ( (Image Courtesy: Coastal Digest.com and Hindustan Times).
1. BJP leaders and workers taking out the Modi victory procession peacefully. Permission had been taken from the relevant law enforcement authorities to conduct this procession.
2. Another picture of BJP members singing and cheering Narendra Modi victory slogan, "Acche din aane waale hai" (Good days will follow).
3. Just as the procession entered the LBS Market, an armed Islamist mob was ready and waiting to ambush the victory celebrators.
4. What followed was this: a communal clash.
5. More footage of the clash, provoked and instigated by the Islamic mob.
6. After a while, the police arrive to take charge of the situation and manage to disperse the melee. BJP leaders and party workers heeded the police warnings and left.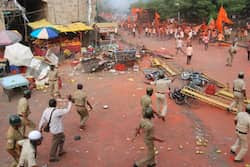 7.  However, the Islamic goons regroup and unleash the following. They specifically target Hindu establishments and vehicles for vandalism.
8. The sad end to this Muslim hooliganism was the grievous stabbing and death of a Hindu.
Meanwhile, none of the Islamist goons who were involved in the nearly two hour-long orgy of vandalism and destruction of public and private propery have been arrested. The Siddaramaiah-led Congress Government has chosen instead to make political hay by arresting BJP leaders and workers for the crime of celebrating Narendra Modi's swearing in as the Prime Minister.
Related reading:  
Hindustan Times 
report
 of the incident.
IndiaFacts Staff articles, reports and guest pieces