Here's how to do it.
In the past if any Nehru-Gandhi dynast or any of his or her confidantes did something dastardly, then the entire #AdarshLiberal crowd would simply look the other way as they are trained to. However, with Prime Minister Narendra Modi, the standards are gigantically different.
If any Indian from any party or any region of India goes wrong, then a tedious link is established and a web of lies spun by the usual suspects to somehow hold Modi responsible. It is no secret that India's intellectuals, liberals, senior editors, seculars are open/closet Communists and hate Modi to the core.
Here's a look at how they deny the facts and go straight for the spin.
Fact: Law and order plummeted in Uttar Pradesh after Akhilesh took over.
Spin: Dadri happened because of Modi-induced intolerance.
Uttar Pradesh was in the pits under Mayawati, but Chief Minister Akhilesh Yadav has sunk it to further depths. Not a day goes by without some violent incident being reported. One of the worst incidents of communal riots in recent times in India happened in Muzaffarnagar in 2013, which saw 62 deaths. The media instead of getting to the bottom of the matter to ensure fair reportage and justice merely played up terms like "polarization"without offering any proof.
Nobody denies that Lalu Prasad Yadav's RJD is a highly casteist party and Mulayam Singh Yadav's SP is a party with serious law and order problems but very few give them regular bad press over the same.
Now the same thing happened in Dadri. While it was a dastardly act, most media outlets had given their verdict on the "breaking news"stage blaming it on beef and Modi. You may remember that Modi was never charge-sheeted in the 2002 Gujarat riots and yet he was declared guilty. Congress President Sonia Gandhi was charge-sheeted in the National Herald case and hearings have been going on regularly, but the media is avoiding it like the plague.
Modi is regularly attacked on imaginary and concocted issues. Law and order is a State issue. A church was attacked in Mamata Banerjee's West Bengal, MM Kalburgi was killed in Siddaramaiah's Karnataka and Dadri happened in Akhilesh's Uttar Pradesh.
Only #AdarshLiberals and the #AwardWapsiGang could blame a BJP Prime Minister for deteriorating law and order situations in non-BJP States.
Fact: The Congress is the most intolerant entity in India.
Spin: Run a vicious smear campaign over Modi's non-existent intolerance.
If I had to write on the intolerance of Congress, then I could easily fill a book. So let me just present some headlines.
Jawaharlal Nehru introduced the First Amendment to curb free speech. Sardar Patel scuttled the Free Press Agency's plans to go international over coverage he disliked. Indira Gandhi imposed Emergency at which point India became dictatorial, with censorship on full throttle.
Rajiv Gandhi tried to introduce an anti-defamation bill. Manmohan Singh introduced the draconian Section 66A. Congress misused Article 356 to dismiss State governments a record number of times. Maximum book bans happened under the Congress including Salman Rushdie's' The Satanic Verses and The Red Sari which does not insult but merely "chronicles" Sonia's life.
Similarly #AdarshLiberals and the #AwardWapsiGang are most intolerant of groups in India and it is ironic that they have launched such an audacious and fake intolerance campaign against Modi.
Fact: The Congress had 1947, 1969, 1980, 1983, 1984, Kashmiri Pandit exodus, 1989, 1991-92.
Spin: Focus only on 2002 and isolated incidents after that.
A Congress supporter says 2002 and a BJP supporter says 1984 and the matter is supposed to end at that implying some sort of sick parity. The truth is that when it comes to communal riots, nobody comes anywhere close to Congress regimes. While it would be impossible to focus on all the riots, one can focus on the ones where the official or unofficial death toll was 1000+.
The Congress had the Gujarat riots in 1969 on its watch. They had the Moradabad riots in 1980. The Nellie massacre in 1983. The anti-Sikh pogrom in 1984. The Kashmiri Pandits exodus (in lakhs) happened under their watch. The Bhagalpur riots of 1989 and the Bombay riots of 1991-92.
The sheer scale of rioting under Congress regimes is spectacular and spectacular is also how the seculars love Congress and paint the BJP as the sole communal party of India. Let's not forget that the Gujarat riots of 2002 were started by opponents of Modi, so there's no way he could have masterminded it.
What of Partition? Could Mahatma Gandhi have prevented the deaths which were estimated at a million on the higher side? When US President Barack Obama lectured on religious tolerance to Indians, it would have surely shocked Mahatma Gandhi. Yet no media or secular-liberal spotted the irony.
How a man (Gandhi) who had seen lakhs of deaths would be alarmed at another man (Modi) over the crimes of Akhilesh and Mamata is a mystery. Also the man making the statement (Obama) witnessed the escalation of incidents of racial intolerance in America.
But the #AdarshLiberals were just happy to have found of another phony, new reason to flog Modi.
Fact: Modi is the most successful politician electorally since Indira.
Spin: Present every election as his "biggest test".
Modi secured the first Lok Sabha majority mandate in 30 years. He got the first ever BJP Chief Ministers of Maharashtra and Haryana and a BJP Deputy Chief Minister in Jammu and Kashmir. He also got the first ever majority government in Jharkhand.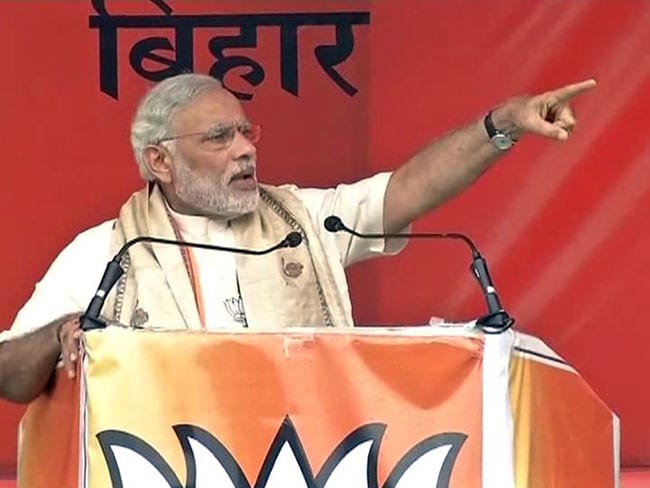 Of course, there were major gains in Madhya Pradesh, Rajasthan and Chhattisgarh. This, even as he already comfortably won three elections in Gujarat. His only failures are the two small states of Mizoram and New Delhi. By any standard, that's a phenomenal success rate in so short a time.
Yet every election is presented as Modi's biggest test. If Modi wins Bihar then his haters will wait for Uttar Pradesh and West Bengal to launch their next fake hate campaign. If he loses, then Modi bashing will reach new heights and #AdarshLiberals will get a bumper Diwali gift.
Fact: Most Indian leaders are megalomaniacs.
Spin: Even though Modi is nothing like them, focus only on him.
A report said that when Tamil Nadu Chief Minister Jayalalithaa enters a rally stage, all the other leaders have to stand in attention and wait till she is seated. All those speaking against her find court cases against them. A folk singer called Kovan was recently arrested for an anti-Jaya song.
Mayawati built multiple statues of herself. The Congress worships Sonia. Karunanidhi rules the DMK with an iron fist. A professor was thrown in jail for merely forwarding an email of a Mamata spoof. Lalu used to make IAS officers sit at his feet. Mulayam slapped an official. Modi has never shown any behaviour remotely like that and he is still curiously presented as a fascist dictator.
When Congress President Sonia Gandhi gets a mysterious illness and flies out of the country for treatment, there is a total media blackout. When Modi sneezes, it is analysed threadbare 24X7 for days on end. Who's the fascist dictator?
Fact: UP had 786 encounter killings from 2002-13.
Spin: Focus only on Jihadi stooge Ishrat Jahan among thousands of encounter deaths across the nation.
According to the National Human Rights Commission (NHRC), UP was the police encounter killing capital of India in the above mentioned period. When Modi became CM, during his first term, Rajasthan, Maharashtra and New Delhi were the other States with higher encounter killings.
In the last few years, apart from UP, these killings have occurred most in West Bengal, Assam and Jharkhand. Yet, it is the Ishrat Jahan encounter case of Gujarat (where encounters are rare) which has hogged all the limelight.
The facts of the case are that Pranesh Pillai (a.k.a. Javed Gulam Sheikh), Amjad Ali Rana, Zeeshan Johar and Ishrat perished at the hands of the police on 15 June 2004. So why wasn't it called the Pranesh-Amjad-Zeeshan encounter case?
The IB was involved and in that period, Manmohan Singh was Prime Minister. So technically, the operation fell under the PMO too.
When the Congress masterminded encounter killings in Punjab, it was seen as a necessity.
When the Mumbai Police turned it into a fine art, they were glorified in Bollywood.
But when Gujarat has the least amount of encounter killings, only one encounter is cherry-picked and covered for years on end.
Fact: Every government in the world snoops.
Spin: Give Modi's #Snoopgate wide coverage.
The upcoming Utah Data Centre in America is an estimated $2 billion data storage facility that will span an area of up to 1.5 million square feet and will store data in exabytes (One exabyte is 1000 petabytes. One petabyte is 1000 terabytes).
That's the amount of snooping that the US Government does, all in the name of Obama. Likewise, the Indian Central Government snoops the most (when compared to State governments) and the maximum snooping occurred in the name of Manmohan Singh from 2004-14.
However, we were led to believe that the Gujarat #Snoopgate case was all that there was in the country from 2002-14.
Fact: In a child marriage both the boy and girl are victims.
Spin: Claim falsely that Modi abandoned his wife.
Child marriage was outlawed in India way back in 1929. This is one case where both the boy and girl are victims. It is the parents' fault. And yet Modi was portrayed as the person who had committed the crime of abandoning his wife by the media.
Even inthe immensely popular serial Balika Vadhu, the hero is shown walking out on his child bride and marrying again, such is the reality.
Fact: The world has seen billions of conversions to Christianity and Islam.
Spin: Focus on #GharWapsi and target Modi.
Conversions have been raging on for centuries with both violence and material gain being used to attract a person of one faith to another. The figure runs into maybe hundreds of millions for the Indian sub-continent alone in the last thousand years.
Before Modi became PM, a #GharWapsi ceremony took place (where people were re-converted to Hinduism) in Uttar Pradesh and nobody noticed. Nobody cared. The event passed off without any controversy. Most media houses either downplayed it or avoided it. Most of India had absolutely no idea that such thing happened.
However when the same ceremony was merely repeated after Modi came to power, the media decided to cover it 24X7 and Parliament behaved as if World War III had suddenly broken out.
While there were so many issues plaguing India, it was amazing that the Lok Sabha and Rajya Sabha found this as an excuse to not function at all. Modi's statement was asked vociferously as if that was the only thing that mattered in India at that point.
Now if the re-conversions were voluntary, what's the problem?
If they were forced, then why didn't the Akhilesh government swing into action and arrest the organizers?
He didn't have to. His sins and those of politicians of his ilk are being transferred to Modi as are the sins of 1.25 billion Indians.
The author is a Bengaluru-based journalist. He has previously worked for organizations like the Hindustan Times, CyberMedia, the Centre for Science & Environment and IT market research firm IDC India.